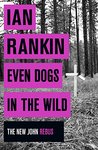 Even Dogs in the Wild
by
Ian Rankin
My rating:
5 of 5 stars
An Ian Rankin novel is always worth reading. A new Rebus Rankin novel is a cause for celebration. 'Even Dogs in the Wild' is thought provoking and a grim reminder of the misuse of power.
Even though John Rebus is officially retired from the Edinburg police force he can't keep his nose out. When his old friend and colleague, now promoted to D.I.,Siobhan Clarke wants to pick his brains about a peculiar case he is happy to oblige. And soon they are involved with that old villain, Ger Cafferty, and a really complex puzzle. Criss-crossing their path is DI Malcolm Fox, Siobhan's pal, who is supposed to liaise with a Glasgow police force covert team but finds that he needs Rebus's wisdom too.
The plot twists are dizzying, the characters as 3D and 'real' as ever and the ending realistic yet satisfying. If you are not a fan start with earlier novels to get the fullest enjoyment, but this novel stands alone. Any reader who enjoys British police procedurals should really enjoy this one. It's a cracking good read.
View all my reviews